It could have made for a beautiful making-of video if I only asked Oles to shoot some backstage scenes as well while taking photos during production. But because the shoemaker's children always go barefoot, I am writing these words. We were so absorbed by everything about the project for three long months that only now we have found time for our own PR. So, instead of watching the making-of video, you are reading this making-of blog post.
The assignment was pretty clear. We were going to shoot three online videos for Softip that are 40 to 50 seconds long and celebrate their 25 years on the market. As a contest– we will include 25 prizes, one for each year and all of them would appear in the videos. You watch the videos, answer a couple of questions and off to the lottery. Simple as that.
Or maybe not? From the beginning, we were worried that we end up with something that would be screaming of product placement and people would switch us off, feeling brainwashed. We couldn't afford that. We also did not have a budget big enough to hire a full team of 40 people and use cameras flying around on a crane, dolly or steadicam. We did not have the luxury to spend hours on lighting for each scene either.
After two weeks of meetings and sleepless nights, it finally came to us. We had an idea how to put together a relatively quick and affordable format that would not make people fall asleep. One name - Casey Neistat. He is a YouTube vlogger who publishes a short video from his life every day. He uses two types of perspective only - POV (point-of-view) and Selfie.
This was exactly what we were looking for. Vlogger style that would excuse a shaky camera out of focus here and there and allow us to use extra quick cuts across the story in post-production. This way, we could fit in many products and show them from the perspective that feels natural.
Surprisingly, we got our client's approval right away. That went smooth. We faced another problem straight away. The style of our choice allowed us to let go of the perfect shots that come with big productions and work relatively quick. But at the same time, we couldn't produce something that would look like a teenage video from a smartphone. We needed something in between.
We started to test things out. We tried different cameras and how to attach them to a body. Naturally, our first choice was the GoPro camera. But this didn't work. The quality of the images wasn't good enough for post-production and when we had worse lighting conditions, the camera was basically blind and recorded images with terrible noise.
After that we tried a feature film RED camera. Quality-wise, it had everything that we wanted but there were too many accessories. We were going to attach it to the actor's head to get the right angle but the RED cam was so heavy it needed to be attached to his chest instead. Again, no fit. We would get beautiful images but a very different angle.
Our tests showed us what we were looking for in technical parameters - a lightweight camera that records high-quality images in dark and can be attached to actor's head on a helmet. We picked Sony A7SII.
Later on we discovered some additional requirements: wireless lens control, monitoring for camera operator and wireless image transmission to director of photography and focus puller. It was crucial that the helmet is extremely lightweight. And this was a setup that was impossible to get from any rental house around. So we needed to build it from scratch.
Our wild card was the company Astras that places cameras at the most unusual places. For a better understanding - they built a camera crane on top of the UFO restaurant in Bratislava and the camera crew was secured with cables so that nobody would fall into the river Danube below.
Vlado Biskupský from Astras was thrilled to be part of the project from the very beginning. I, on the other hand, wasn't entirely sure if it works out. They had my trust but I wasn't 100% sure if POV is the best choice for us.
I was wrong. On Sunday evening, I received a photo of the helmet that Vlado and his team put together during the weekend. I was stunned. And knew that we will nail it. The next day we had a test run with the helmet and everything went smoothly. We were ready and had all the necessary tools to get down to business.
We started to write and re-write. Even though the videos did not require a script, we prepared one. We created our main characters, gave them names, came up with their characteristics. We described each and every scene, atmosphere, location, voice-over. We wanted to make sure that the actors felt comfortable and we were well prepared for editing. And yes, the editing was a blast. We created three main stories that were intertwined by many details.
There was only one last thing left. The most crucial thing for the success of the whole project - to get a great actor. We needed someone who is well known and who is able to tackle two roles. To be the actor on the selfies and to act as the camera operator for the POV shots.
That meant that he would wear a custom-made skiing helmet with 13 pounds of equipment attached to it for two days. On top of that, he must follow the directions of director of photography and director who will help him use the helmet and show him what should be framed in the scene and what not. And repeat it. Over and over again.
The vote was unanimous, it fell on Ludwig Bagin. A charismatic dandy who is always open to experimenting.
The shooting brought together great people. We were working well together from the very beginning and we ticked off one scene after another from our shortlist. I had a lot of respect for Ludwig but at the same time was worried that he would give in after a couple of hours. That it was humanly impossible to work with such a load on one's head.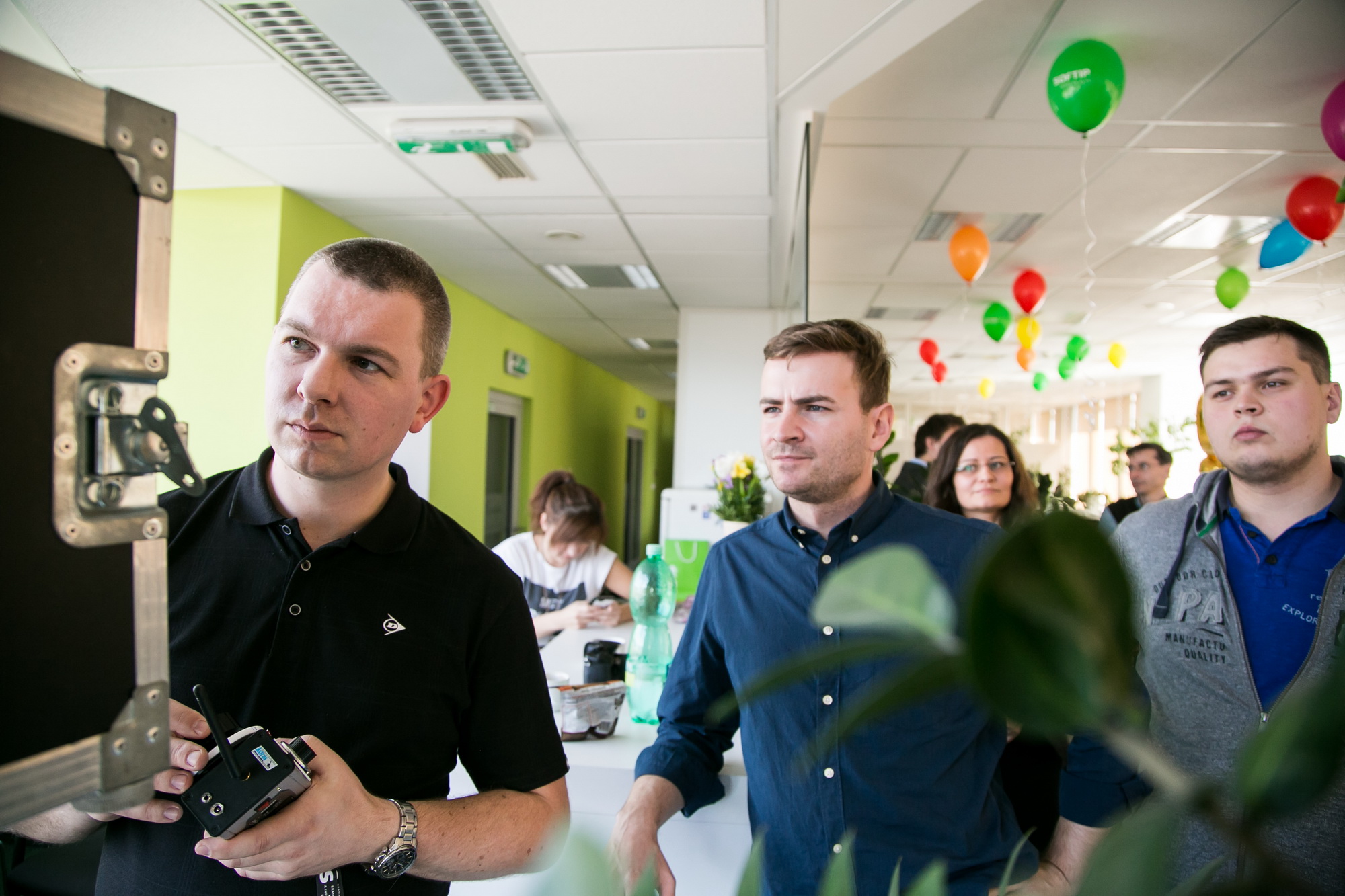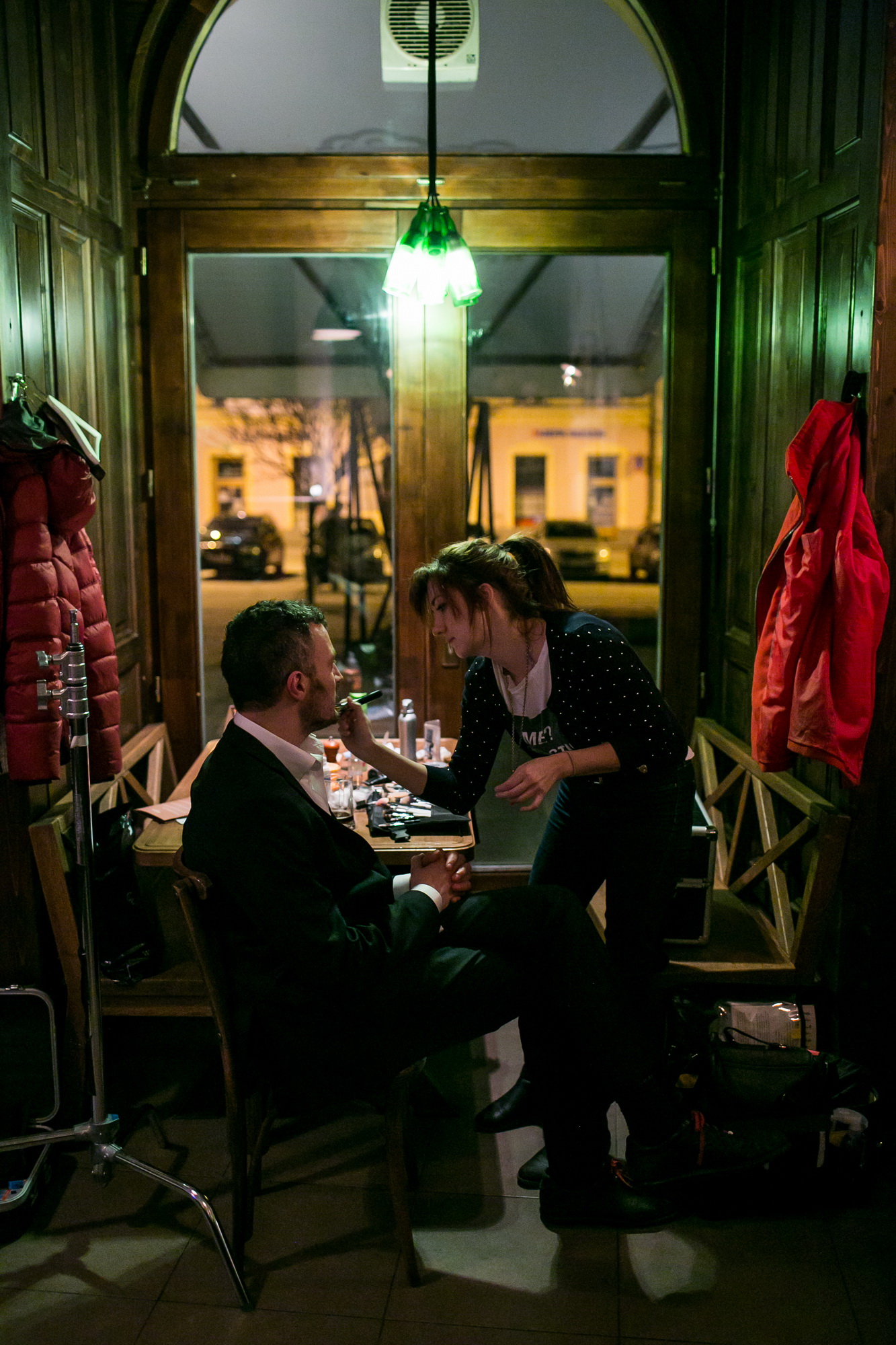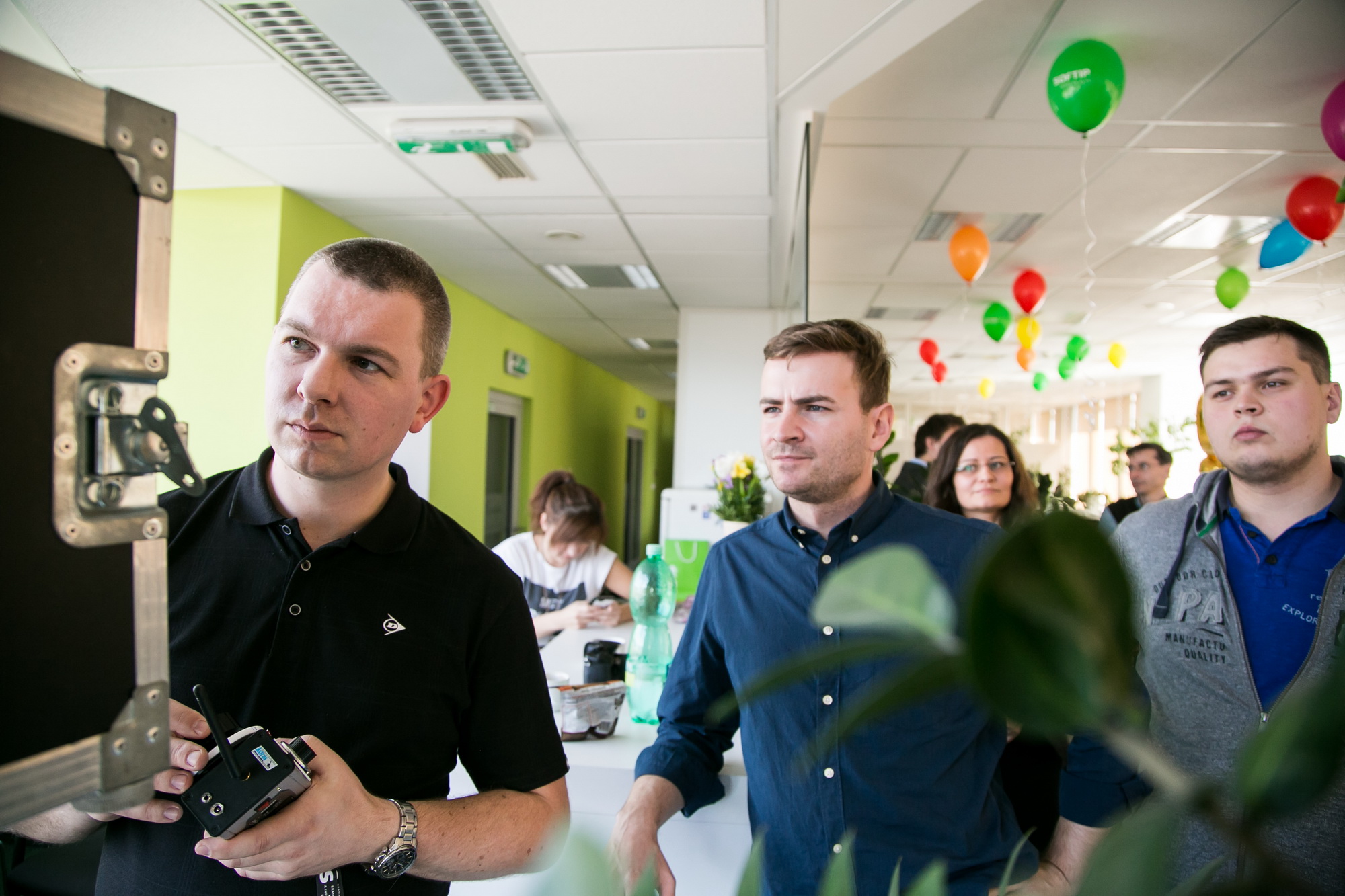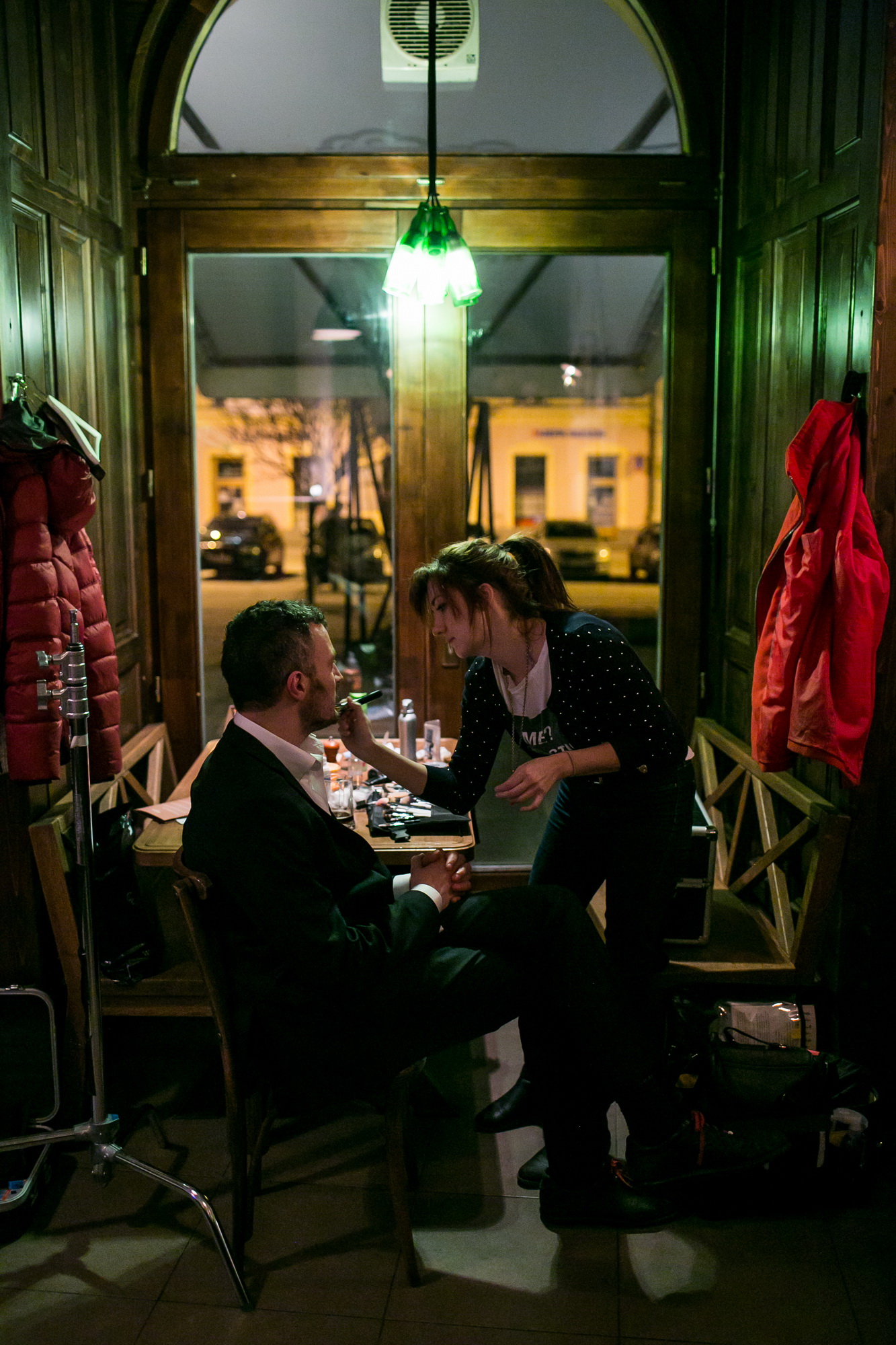 But the helmet was perfect. It was relatively light and allowed Ludwig to maneuver without greater problems. It took him only a short while to learn how to move it and get everything necessary into the shot. Of course, there were some tough moments during the 14 hours of shooting. But there was always someone at hand who was extremely motivated to carry on and infected the others with new energy.
Thanks to the POV setup, we were able to get 90 scenes at 4 different locations (indoors and outdoors) during two days of shooting.
Yes, we are not the first ones to use POV video in Slovakia or abroad. But even so, we feel a bit like pioneers. The whole project was very complex and had specific requirements when it came to art direction and technical requirements.
Aside from what all went on behind the scenes, I hope that the viewer will watch our video and enjoy it.
Boris Šmotlák
A big thanks to the whole team:
Concept: Boris Šmotlák and Jaroslav Repta
Screenplay and Direction: Boris Šmotlák
Actors: Ludwig Bagin, Kristína Kanátová
Director of photography: Rafael Skurka jr.
Camera operator POV: Ludwig Bagin
Camera operator Selfie: Rafael Skurka jr.
Gaffer: Karol Bohrn
Editing and coloring: Jaroslav Repta
Make-up: Silvia Trnovská
Product and backstage photography: Oles Cheresko
Production Assistant: Miroslav Doležal
Sound: Martin Merc
Camera rigging - helmet: Vladimír Biskupský, Peter Plazák
Rental: Astras, Reproduction, KB Shop, G-tec Professional, K2 Zvuk